What people are saying about Altitude Attitude
Altitude Attitude is Altitude Pole's 28 day challenge – 4 weeks of dance classes, workshops, and fitness and life challenges, all concluding with a professional photoshoot for our participants to show off their new skills!
Are you curious if Altitude Attitude is for you? Check out what some of last year's divas have to say!
What Edwina Says About Altitude Attitude
What made you sign up to Altitude Attitude?
Initially it was all the amazing YouTube videos that Altitude have up. I was watching hours of these for a couple of days and I thought why not and give it a go myself. You get to look super hot and badass and on top of that you get a full body work out as well. The photoshoot was something very new and out of my comfort zone for me but I thought this was an awesome opportunity to do all the fun things altogether! Basically wanted to look like a glitter-ful goddess.
How were you feeling when AA first started?
Pretty nervous but excited at the same time! Everyone was so welcoming and supportive though, so the whole nervous thing was gone and it was more excitement and a challenge for myself. I wanted to do heaps of classes (with plenty of rest days too) and I was pretty motivated as my best friend signed up with me so we were going to classes together. We had all the laughs and good times at pole, such a fun memory.
How did you feel at then end of AA?
A bit sad that it was done but then I continued on my pole journey. The photos are something I'll cherish forever- though looking back I do have some things I could do better since I've been with Altitude for a year now. But it was an amazing experience and I'd encourage anyone to give it a go. I couldn't dance/I hated fitness but now I live for it.
What was your favourite part of AA?
It was the photoshoot, you get absolutely glammed up and you get to strut your stuff. You get to do whatever poses you're confident in doing you decide and get that all edited by a photographer. The classes you attend to will give you so many options you would want to use for the shoot when the time comes around, so you don't need to worry.
If someone was on the fence about joining AA what would you say to them?
I would say do this for yourself. If you're on the fence you're obviously thinking of signing up for it. Why not just do it rather than regret it? I did this as a gift to myself. And I loved every second of it- hence why I'm still doing pole.
Is there anything else you'd like to add about your experience with AA and Altitude?
If you thought about signing up just do it for yourself, you won't regret it at all. There is so many amazing instructors who will help you feel great/look great, there is pole and loads of other classes you can all try out. Screw whatever anyone says or has any opinion of what you want to do, just do it and you will feel and look like a million dollars.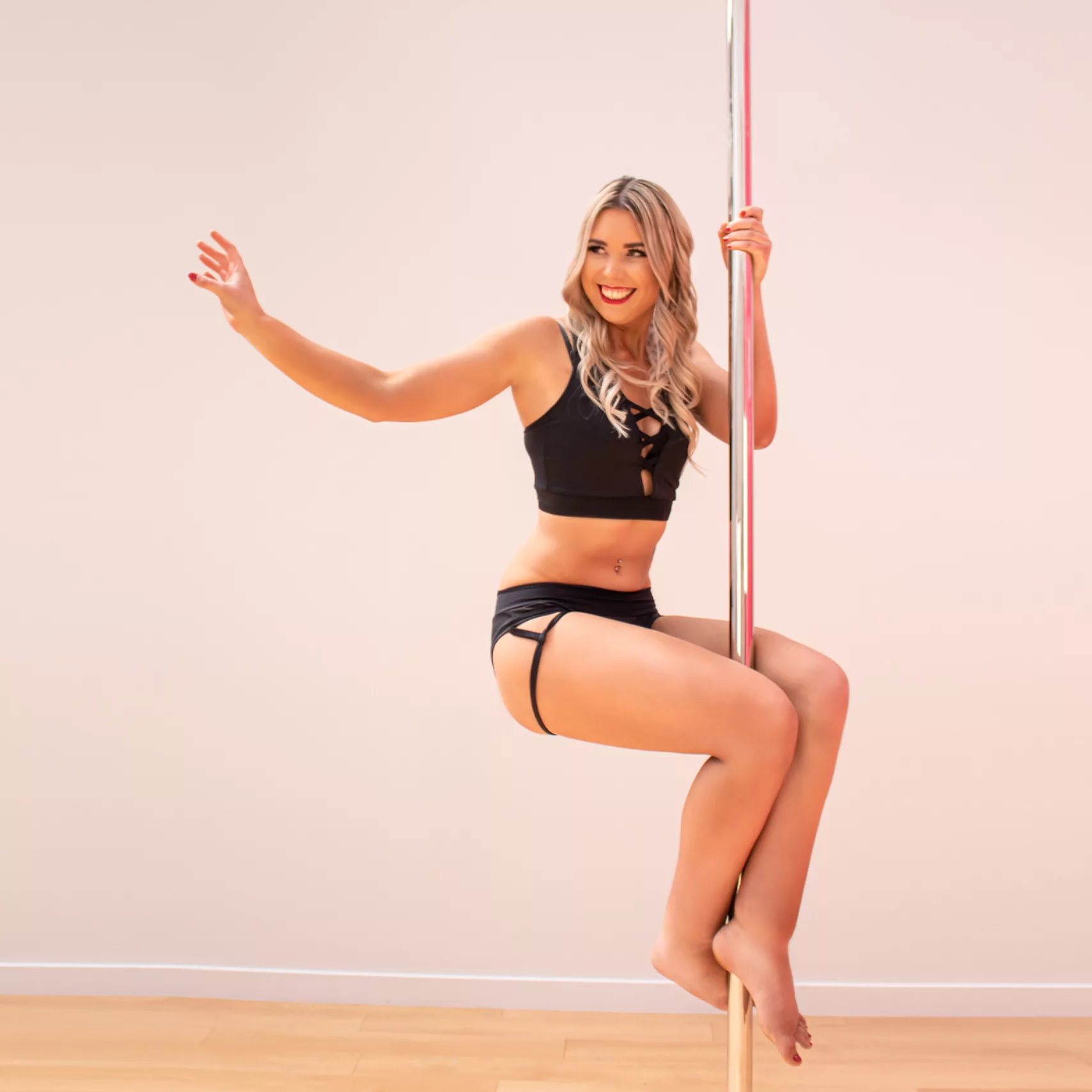 What Jessikah Says About Altitude Attitude
What made you sign up to Altitude Attitude?
I wanted to sign up to Altitude Attitude (AA) because I had been doing pole dancing for a couple of weeks and I knew from these first two weeks of that this was something I wanted to really become skilled and awesome at. When the opportunity to join the newbies bootcamp was extended to me, since I hadn't been a member of Altitude very long, I couldn't pass it up! I knew it would be a supportive and team environment to boost my new found love for building pole skills.
How were you feeling when AA first started?
Super excited! As I had already done a few classes beforehand I knew that having unlimited classes offered to me through AA would be incredible. I think on the first day it started I did a class in the morning and then 2 classes in a row at night I was so keen!
How did you feel at the end of AA?
That I was making real progress with my pole dancing tricks. I remember being in my first class and seeing people doing basic moves such as martini spins and thinking wow I hope I can do that kind of stuff - and by the end I could!
What was your favorite part of AA?
Even though I was sooo shaky and nervous during the AA photoshoot it was probably one of the best experiences because it gave me lifetime memories of my first ever taste of pole! I know in the years to come I can look back on the photos fondly. Not to mention the girls at Altitude lending their costumes, helping with makeup, pulling down my thong when it photobombed the images (whoops - don't wear bright undergarments!) and of course Elle Catraz Photography taking the photos, I felt like a pole goddess!
If someone was on the fence about joining AA, what would you say to them?
If you are already interested in starting pole dancing, AA is the absolutely best way to fully immerse yourself in pole as well as start with a group of people who are probably just as nervous or as excited as you! You'll feel supported and encouraged to reach your potential and get a bunch of special bonuses!
Is there anything else you'd like to add about your experience with AA and Altitude?
Join! You won't regret it! To quote Audrey Hepburn in Breakfast at Tiffany's: "didn't I tell you this was a lovely place?"
That all sounds pretty great to us! Here at Altitude we are all about pushing our students to achieve their best, all while supporting and encouraging them along the way. These are just two of the many cool guys and gals who have found a home at Altitude, becoming part of the family.
Do you want to join the likes of Edwina and Jessikah and take on the Altitude Attitude challenge?!
The challenge runs for 28 days and runs once-a-year!
2019 dates: 24 September to 21 October.
Entries close 1pm 16 September!
Be part of it!🤩