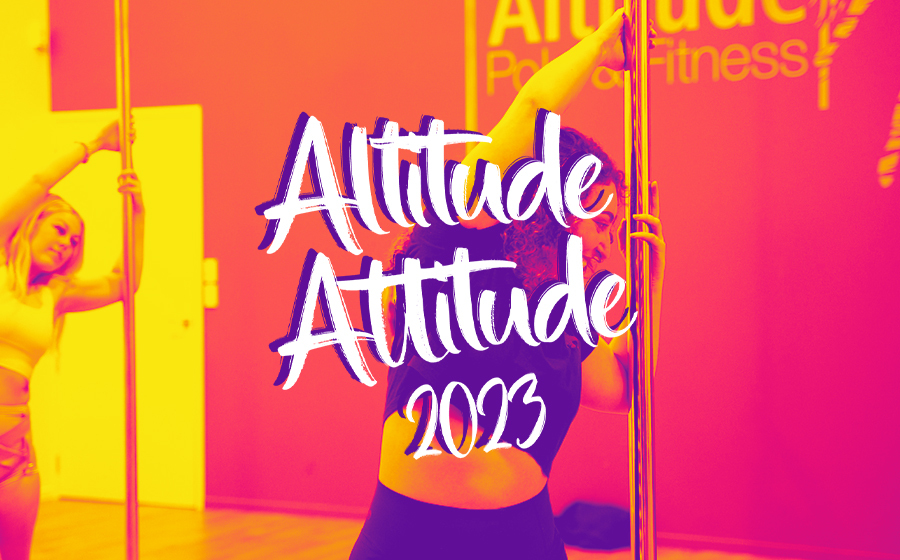 Pole Power: Skyrocket Confidence and New Friendships with Altitude Attitude!
Altitude Attitude (AA) is more than just a beginner pole dancing Event at Altitude – it's a transformative journey that empowers individuals, challenges preconceived notions, and invites everyone into a vibrant community. From skyrocketing confidence levels to forging lifelong friendships, AA holds a myriad of experiences for our participants.
Our community members, some of whom are past AA heroes and others who started as regular members at Altitude, are testament to these experiences. 
They have shared their unique insights and perspectives on their journeys with us and with pole dancing.
Everyone embarks on their pole dancing journey as a beginner, so let's dive into their inspiring stories!
Our stories start with Allanah from Altitude Pole Drury, who found the community to be welcoming and supportive. She shares, "When I first started at Altitude, I was like everybody else, wearing biker shorts and completely uncomfortable in how short they were. Eventually you start doing moves and realizing that you need more skin contact and nobody cares. Everybody is very welcoming and supportive and it's so much fun and empowering."
Anna, also from Drury, has seen a significant boost in her confidence since she began pole dancing. "Since I started pole dancing, my confidence has definitely risen hugely. I think being able to express ourselves through the classes and see yourself progress each week is amazing and I feel more confident as a pole dancer, but also as a person as well," she reveals.
At Altitude Pole Albany, Hazel found that trying pole fitness was worth the risk. "I'd recommend you just go for it. There's nothing you can lose from trying. You might find that pole fitness or pole dancing is the thing for you, and It's going to be your thing," she urges anyone considering the program.

Over at Altitude Pole Wigram, Jessica found the shared experience of starting out together as beginners made it easier to forge friendships and share in the journey. "I remember sitting in my car for a good 10 minutes before going in and being like, "okay, I can do this", and then seeing other people doing the same and was like, "Okay, we can all do this together"."
Lisa from Altitude Pole Whanganui raves about the studio's atmosphere during Altitude Attitude, "The vibe at the studio during Altitude Attitude was so cool. The group really hit it off and it was so great to have the support, encouragement and it just made it easier to relax and really enjoy the journey."
Molly from Altitude Pole Palmerston North shared how she saw her abilities grow over the course of the program. "The amount of things that I could do by the end of the program compared to the start was incredible. Everybody was super supportive and encouraging."

Sav from Altitude Pole Hamilton found her confidence soared after joining the program. "My confidence after starting pole and just my own body image and everything else has skyrocketed." she shares.
Lastly, Emma from Altitude Pole The Mount, has some encouraging words for anyone considering Altitude Attitude. "If you're ever thinking about signing up to Altitude Attitude, don't be afraid to come alone, ride the nerves, just go with it - everyone feels the same, whether they show it or not," Emma shares. Her words capture the essence of Altitude Attitude, where taking that first step is a powerful moment of self-discovery.

So! Are you ready to join these amazing individuals in this exhilarating journey? Remember, every expert was once a beginner. The path to transformation might seem daunting, but with the supportive community of Altitude Attitude, every step is an exciting adventure!
As the famous saying goes, "Life is a journey, and if you fall in love with the journey, you will be in love forever."
We invite you to fall in love with your pole dancing journey at Altitude Attitude – where the magic begins and never ends. 🚀
Ready to join the fun? Sign up today!