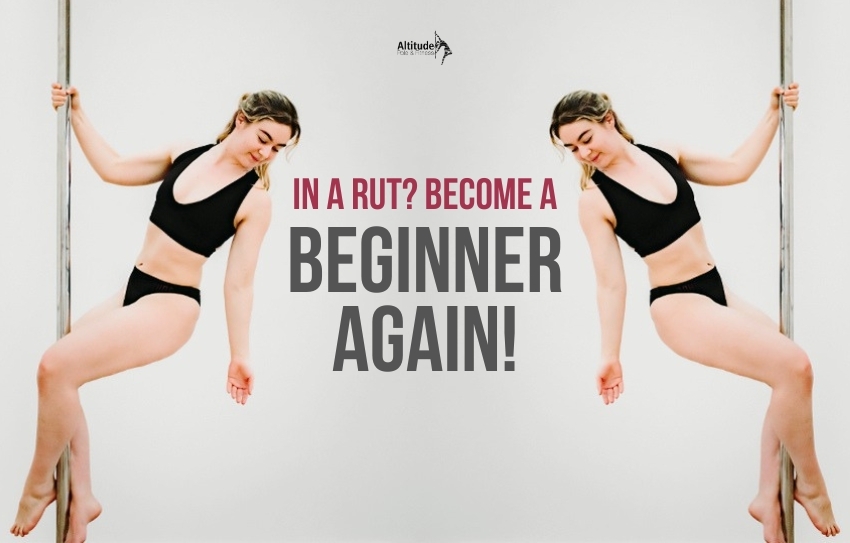 In A Rut? Become a Beginner Again!
Feeling like you're in a bit of a rut lately? If you're getting a bit bored with your day-to-day, and you've watched everything good on Netflix, then it might just be time to spice things up a little!
We're slightly biased, but we think learning to pole dance is the perfect rut-buster 🤸‍♀️
Starting something new can be daunting, especially if you're coming in as a total beginner, so we've put together our top tips on how to be a beginner again...
It's Okay To Be Scared (Do It Anyway!)
Feeling a bit scared or nervous about trying something new is to be expected - especially when you've been sticking to the same routine for a while. It's okay to be scared! Just don't let that fear hold you back; feel the fear and do it anyway!
And besides, what is it that you're really afraid of? A beginner class is filled with people just like you - people who are starting something new, looking to have fun, make friends and improve their fitness. Nobody starts out as an expert, you'll get to be beginners together, laughing at the awkward flailing moments as your body adjusts to a new way of moving, and cheering each other on as you start to click with a new move 💕
Starting something new doesn't mean going from zero to a hundred overnight, you can start small and work your way up. For most people, even trying a spin on the pole without sliding down right away is a huge achievement!
Focus on setting small, achievable goals and celebrate all the milestones of being a beginner 🏅 Showed up to your first class? Awesome! Managed to give everything a try? Nice one! Made a new friend? Amazing!
Our memberships start at just two classes a week so they're perfect if you're looking to start small and add a little extra fun into your weeks.
Enjoy The Journey. Trust The Process.
You probably won't become an expert pole dancer after your first class, your second, or even your third. It can take years to develop your skills so it's important to enjoy the journey along the way.
The trick with trying something new is to be consistent. You may not nail everything the first time you try it, but with practice, you'll get a little bit better with every class.
Every time you do a climb, you'll get a bit stronger. Every time you learn a new dance, you'll become a little bit more coordinated. And every time you make it to stretch class, your flexibility will improve a little bit more. Be consistent, trust the process and have fun doing it!
Being a beginner can be a challenge in itself - as humans, we LOVE being good at things! Being a beginner means stepping back and allowing ourselves to possibly not be good at something for a while, and that can be hard to do.
A great way to push through that is to track your progress. Find a way to measure success and celebrate all the small wins along the way.
There are a number of ways to track your progress, some of our favourites are:
Take photos/videos of yourself in class to look back on, and watch as you start to master your new skills
Keep a journal where you write down what you learned in class and how it felt
Pick up a tick sheet of all the moves in your level so that you can see how many moves you've mastered as you go
Set a goal to turn a challenging move into your signature move
If at first, you don't succeed, try and try again! It's about practice, not perfection. Every new move you learn is a challenge - an opportunity to persevere at something new 💪
A lot of the moves you learn in a pole class will take a long time to get good at. Never stop trying because eventually those "hard moves" will become easy for you, and you'll move on to the next challenge, and the one after that, and the one after that...
We all have good days and bad days. Sometimes you'll show up and everything clicks right away and it's amazing...annnnnd other times you'll show up and nothing seems to want to go your way at all. As a beginner, you may have more hard days than easy ones, but that doesn't make them any less fun!
Allow yourself to fail, and flail and be all kinds of un-graceful - it's all part of the journey. Be kind to yourself, you are a beginner after all 😉 Besides, if it was easy, would it be any fun?