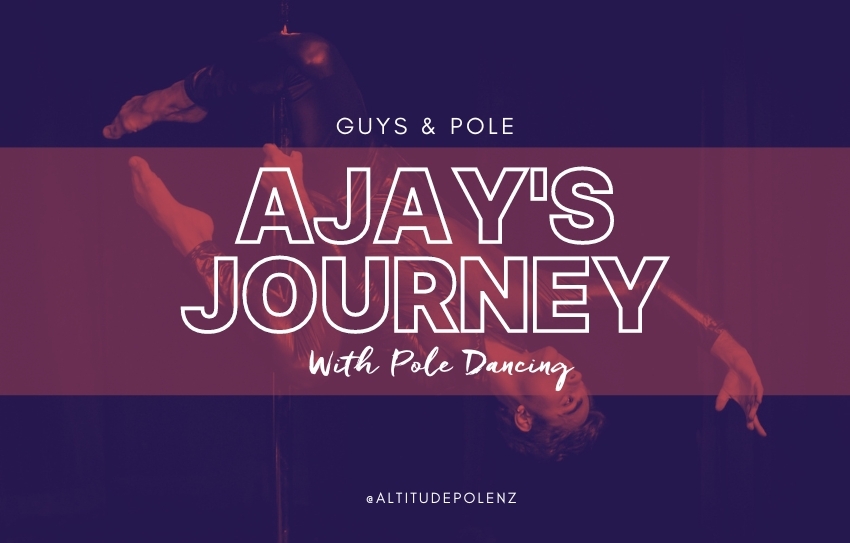 Guys & Pole - Ajay's Journey; Boosting morale and growing confidence through pole dance at Altitude
This blog was written by Ajay, one of our members from our studio in Takapuna, Auckland
Way back in 2016, I wanted to dance and have fun and was exploring various dance styles...
However, at the time, there were very few dance studios that catered to adults. I tried Jive (it's kinda like ballroom dance) for a few months but I didn't enjoy it that much. Then one day a simple google search led me to discover pole dance.
After a great conversation with the studio manager, I signed up for a 28-Day Challenge at Altitude Takapuna back in October 2016 to see if Pole was for me and never looked back.
My first class was scary and a bit nerve-wracking as I was the only male student in the class, plus I was a bit uncomfortable with my own skin. However, as the class progressed I picked up a few moves after superb motivation from my instructor; this boosted my morale and decided to stick through the 28-day challenge.
During my 28-Day Challenge, I went to see Pole Legends 2016 (an elite level pole dancing competition) at Sky City Theatre. After watching a fellow male pole dancer, Larry, perform I was inspired to sign up for a full-year membership.
Now the classes overall are amazing! Some days I struggle to do any moves in the class, and some days I nail all of them - that's part of the joy of learning pole dance. For a long time, Superman was my favourite pole trick. It took me over a year to learn and when I got it, I started using it in almost all my pole performances (even to this day!). Ayesha's & Handsprings are my current favourite moves and I'm working towards making them solid!
As for my own style, I think I enjoy the artistic style of pole more. I try to depict a story every now and then when I'm performing; usually, those are personal experiences or the things that I've been through. I've also done a few performances just for the sake of having fun, no story just entertainment.
Overall, I would say pole has boosted my morale! I've grown from a shy person to a more confident one, and I have learned to appreciate myself and my body more.
What would be your advice for any guys out there who are thinking of giving pole a go?
Pole is for every gender, every body type! Every pole dancer I've met has been positive and accepting. You build great friendships while working out - come along to Altitude and see it for yourself!