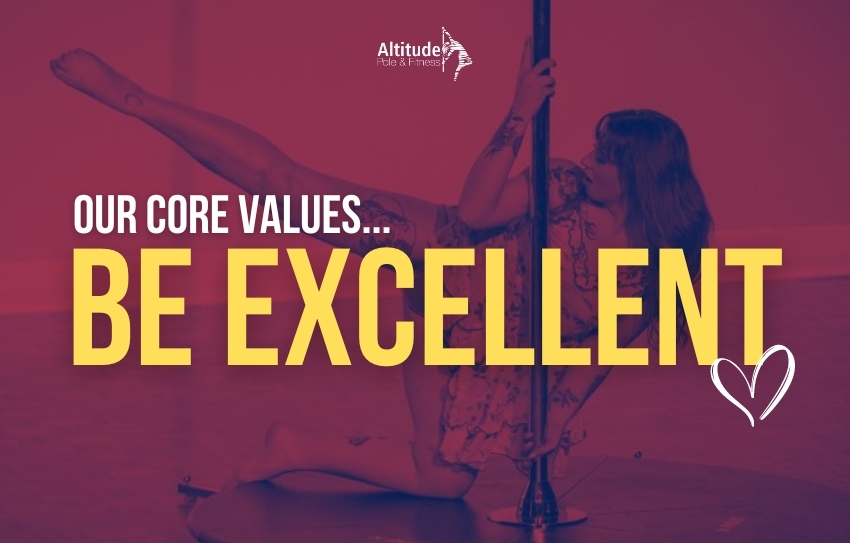 Our Core Values - "Be Excellent"
Altitude is where pole dreams come alive, and excellence takes centre stage. We're not your average fitness studio; we're a tight-knit community that believes in reaching for the stars and pushing the boundaries of what's possible in every aspect of life.

In this blog, we're excited to dive into how we embody our core value of "Be Excellent" in everything we do ❤️️
Firstly, let's talk about our unforgettable Instructors...
Our instructors are the heartbeat of Altitude, and they are here to blow your mind! They're not only masters of their craft but also passionate about sharing their love for pole with you.

Get ready to be inspired by their insane skills, infectious energy, and unwavering support. From jaw-dropping tricks to mind-blowing choreography, our instructors are dedicated to helping you unleash your inner pole superstar and achieve excellence in your own unique way.
Prepare yourself for an experience like no other as you step into one of our amazing studios!
We're all about creating an environment where you can push yourself, embrace the thrill of learning, and discover the incredible dancer within you. The best part is, with so many classes to choose from, you can lean into your favourite style of pole dance, whether you prefer tricks, combos or dance, or you can give everything a go!

Our classes are designed to ignite your passion for pole, challenge your limits, and bring out your best. From sassy floor work to gravity-defying sky-high moves, our classes will have you twirling, flipping, and feeling like an absolute boss!
We believe that excellence isn't just about nailing moves...
It's about expressing your true self and shining brightly. We encourage you to let go of inhibitions, tap into your creativity, and embrace the power of self-expression.

Altitude is a judgment-free zone where you can unleash your inner superstar, explore your artistry, and tell your story through dance.
We're all about celebrating individuality, body positivity, and the joy of being authentically you 💕
Another way we embody the spirit of excellence is by cultivating a warm, supportive community where individuality thrives and friendships flourish!
Our community is a powerhouse of support, laughter, and encouragement. From the moment you walk through our doors, you'll be welcomed with open arms by like-minded individuals who share your love for pole.
We celebrate each other's successes, lift each other up during challenges, and create memories that will last a lifetime. Our community is a place where you can be your authentic self, let your freak flag fly high, and feel empowered to embrace your unique style.
Excellence runs through to the heart of who we are - from our unforgettable instructors, epic classes, an incredible community, and the freedom to be your fabulous self.