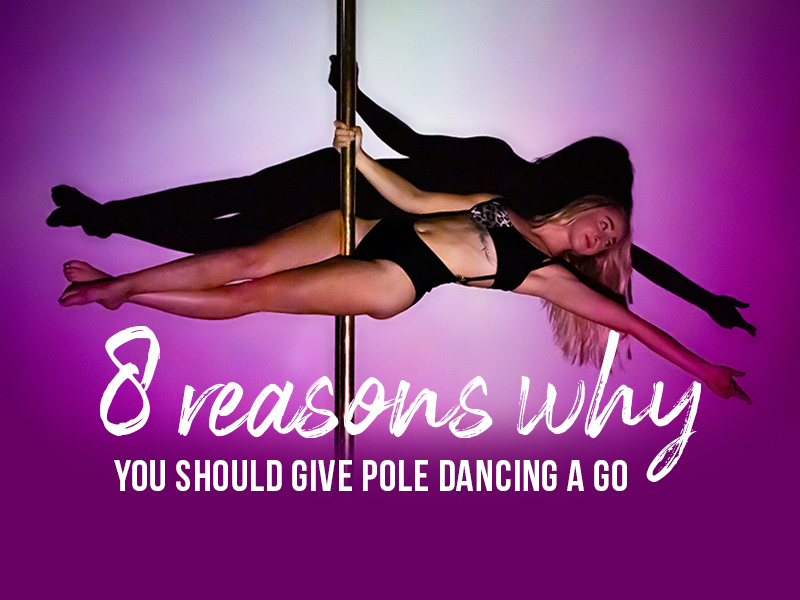 8 Reasons To Give Pole Dance A Go
Thinking about trying Pole Dance for the first time? Well you are full of great ideas and this is definitely one of your best!!
Not like that time you tried cutting your own fringe, but that's a story for another day….🙈

See, getting fit is really more of a cool side effect of Pole Dancing - it's only the tip of the iceberg of the life changing goodness you get from joining your local studio.
Here are just a few reasons to give Pole Dance a go….
You'll gain more confidence
From the moment you walk through the door you will see people of all shapes, sizes, colours, genders and ages strutting their stuff in the cutest booty shorts you've ever seen! Seriously, the confidence you gain from Pole Dance is incomparable - you'll be celebrated for the glorious, beautiful creature that you are by all your new pole fam in no time 🔥 It's hard not to get a confidence boost when so many people are telling you how great you are!
You'll have a new appreciation for how amazing your body is
One of the biggest things you'll notice when you join a studio is how your perspective does a major shift from caring about what your body looks like to loving it for what it can do for you. You'll be amazed by what your body is capable of doing!! Lift yourself? Lift your partner? Lift everything!!! You'll get obsessed with showing off your new found strength and flexibility every chance you get 💪
Pole dance friends are the best kind of friends! You'll find your tribe - a group of the kindest humans you could ask for ❤
Pole dance class is about 90% giggling, being goofballs and complimenting each other's glorious booties. Pole friends will lift you up (figuratively and sometimes literally!) 👯‍♀️
Your instructors and fellow students will celebrate with you - they'll become your cheerleaders! Have you ever had a room erupt in applause because you #nailedit ? Well, we have and it feels GREAT! 🥳
You'll have a healthy hobby that gets you moving...and you'll enjoy it!
Exercise doesn't have hard work or feel like a chore. Pole time is play time! You get to go into the studio to hang out with awesome people while learning how to do cool stuff AND you'll be doing your body a big favour at the same time! Win-win-win!!!! 🤸‍♀️
You'll find a second home at the studio
Adulting is hard y'all!! Now you can have a safe space where you can go to unwind from the real world, hang out with awesome people and let the day wash away. There is nothing more satisfying after a stressful day than getting to the studio and nailing a new move! 👌
Pole dancing is good for mental wellness
One of the greatest things about Pole is that it combines 5+ of the top recommended things to stay on top of our mental wellbeing 😌
- Get some exercise ✔
- Connect with others ✔
- Get out and about ✔
- Challenge yourself with something new ✔
- Be present in the moment ✔
You'll be looking after your mind, body and soul when you attend Pole Dance classes. You can even choose the classes that best fit your mood, so whether you want to learn big tricks, flow to some tunes or roll around on the floor, we have you covered!
You might become obsessed with the fierce world of Pole fashion 'cause it makes you feel like a sexy badass!
"Oooh la-la look at you!!!! You fierce thang".....if that is music to your ears then you will definitely LOVE the world of Pole fashion 🤩 You can embrace your own personal style and dive into the world of less is so much more!
Booty shorts, cute crops, leggings, HEELS!!!! Oh my, it's all just so LUSH! Can you tell we love Pole fashion? You may even end up spending more on your Pole-drobe than your actual wardrobe!!!!

These are just 8 of the HUNDREDS of reasons we have to give Pole Dance a go. Sure it's great fitness, but it is so much more than that too!
So what are you waiting for?

Come check us out today!!! We can't wait to see you there ✌