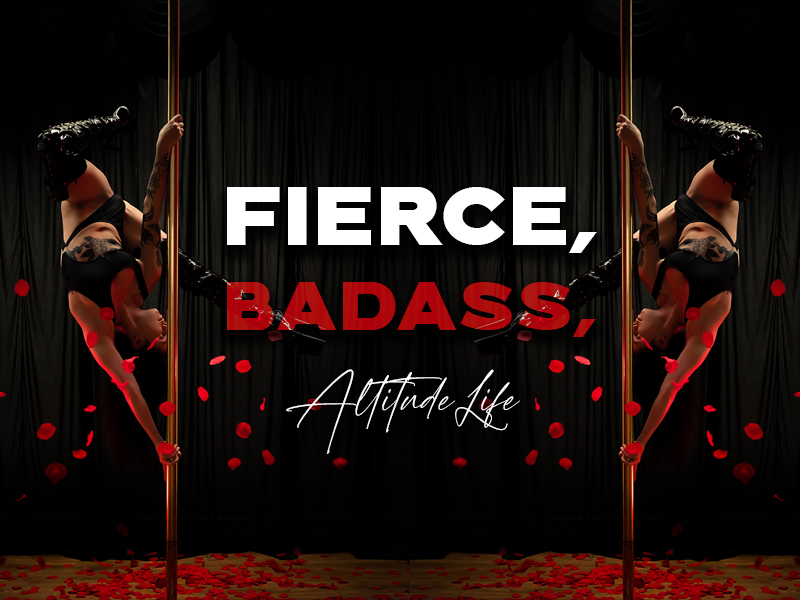 Fierce. Badass. Altitude Life!
Have you been looking for a way to bring some excitement into your days? Then it's time to give pole dancing a go! Keep reading to see why pole dance is the ultimate way to live a fierce, badass life!
Who Doesn't Love Trying Something New?
The number #1 way to live your best life? Trying new things of course! Y'all gotta keep things fresh and embrace every opportunity that comes your way ✨#YOLO
And the best part is, if you try pole and love it, you can TOTALLY brag about your cool new hobby and start showing off some of your badass skills on any streetlight, sign-post, or scaffolding you see 🎠 Nothing is safe from a pole dancer in public!
Pole Dancing Makes You Feel Sexy As Hell!
It's the ultimate excuse to wear an outfit that makes you feel like a BOSS. Rock some sky-high heels, whip your hair and shake your hips to your heart's content!
There is no stigma in the pole studio - whatever your age, body shape or sexuality, you're free to unleash your inner badass through pole dance! You'll learn to move your body in all kinds of delicious ways, where you'll get to explore sides of yourself you may not have even met before!
Oh yes, getting strong is crazy easy when you're having a good time in the studio! You'll have a smile on your lips and a shimmy on your hips as you get stronger, more flexible, up that cardi-oh-oh-oh and did we mention all the #bootygains ?!!!
You'll be having so much fun it won't even feel like exercise until the next day!
Cheeky gains? Who wouldn't want that??? 💪💪💪
Feel Like A Ninja With All Your Badass New Tricks!
Let's be real, pole is f*cking cool! 🔥
You'll start by learning some cool spins, do a few fabulous poses up the pole and learn to #werkit with mermaid-esque body waves and juicy booty bops 🍑
Once you've got the gist of the un-basic basics, you can up the ante and get yourself upside-down! You'll be learning some epic upside-down poses and transitions up the pole! Like seriously, this stuff is BADASS!
Then, when you're just starting to think you couldn't get any cooler THERE ARE FLIPS AND DROPS!!! Embrace your inner ninja, you are FIERCE! 🔥
Your New Friends Are Totally #Squadgoals
There's no doubt, pole attracts the coolest people! We're a social bunch and we LOVE a good get-together! Any excuse to have some fun right? When we get together outside of the studio you know it's going to be a pole dance take-over! We bust out the sky-high heels and it's a well-known fact that there is no such thing as too much glitter in the pole community!
In the studio, it's like having your own personal cheer squad! You'll be celebrated for your achievements, complimented on how amazing your new pole clothing looks on you and have people to bounce ideas off 💕
You'll also make some friends who become your regular possy - the studio is a great place to make life-long friendships 👯‍♀️